Welcome to Courses and Books
Please note: The six course pdf files on the top table may be distributed freely.
If you host them on your site please let us know.
contact us by email
You can call us on Skype - chi.tec
Link to HSCTI, Catalog and Ordering, USA and International
Link to EU branch and Distributors
Use a Chi-Card® - connected to your own Chi Generator® or a Chi Generator® in our labs, and make this structural link a wallpaper on your smartphone - This is the very best way to effectively counteract negative effects of electromagnetic frequencies coming from your cellphone AND from your environment (from phone towers, power lines, fluorescent lights, microwave ovens, etc.) as well as continuously supplying yourself with beneficial life force - orgone - chi energy !!!
Something none of those "stickers" on your cell phone and/or other contraptions can do!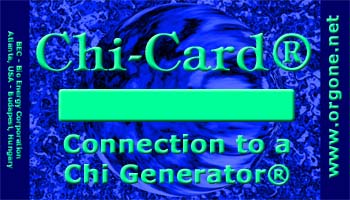 To establish a structural link from your Chi generator® or Chi-Card® to yourself, you can use the Chi-Card® design: Simply print out the blank Chi-Card® on the left twice.
Then write some letters and/or numbers into the green rectangle and write the same thing into the rectangle of the second card. Instead of numbers and letters or your name, you can use a design, of course. Important is that whatever you are using, it should be individual, or unique. To test for transfer: put one of these chi cards next to your Chi generator® and put the second one on a flat surface, then proceed as in the transfer tests, i.e., holding the palm of your hand above it. Naturally you can make your own Chi-Card, with a background that you design, etc. This card is here to make things easier for you and/or to give you an example of how you can make your own.
© Copyright 2003-2020 Karl Hans Welz, All Rights Reserved World Wide.
This site may not be reproduced as a whole or in part, transmitted, or utilized in any form by any means,
electronic, photographic, or mechanical, including photocopying, recording, or by any information storage and retrieval system,
without prior permission in writing by the author. Orgonite®, Orgone Generator®, Chi Generator®, Prana Generator® and Chi-Card®
are registered trademarks owned by Karl Hans Welz.
Published by Karl Hans Welz, P.O. Box 1298, Woodstock, GA 30188